You may be wondering: Jira is one of the best agile project management tools for developers, so why do web development agencies need Jira alternatives?
Let's find out.
The Rise of Agile in Web Development Project Management
The rise of agile in web development project management began in 2001, when "the Manifesto for Agile Software Development was created and signed by representatives from Extreme Programming, Scrum, DSDM, Adaptive Software Development, Crystal, feature-driven development, and pragmatic programming."–Wrike. Since then, agile has been in use over the years, and between 2012 and 2015, real-life success metrics began to accompany agile project management until now. It's worth noting that agile has come to stay, not only in software and web development but across various industries.
Agile project management is essential to ensuring success when collaborating on web development projects, and this requires tools to ensure an effective and efficient iterative process when managing projects. That way, internal stakeholders can always incorporate feedback from their clients (external stakeholders) along the way when working on projects.
Why Agile Web Development Teams Use Jira to Manage Projects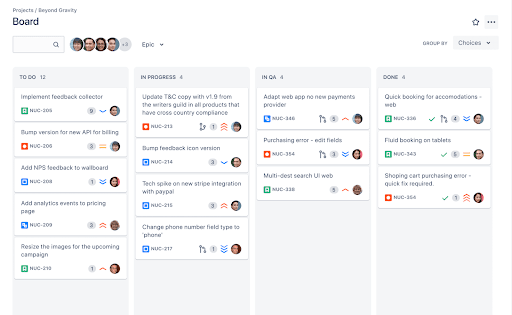 There are a couple of agile project management tools being used by agile teams across the globe. Jira, by Atlassian, is one of them and it's been used and trusted by over 100,000 organizations. Apart from bug tracking and team management, Jira is designed to support agile teams to plan, build, and track progress. What's more, it has all the features you need for efficient task management, reporting, and team collaboration.
Jira offers both scrum and Kanban strategies used in agile project management. And these boards help provide transparency across teamwork and visibility into the status of every work item. Additionally, Jira provides time-tracking capabilities and real-time performance reports to enable teams to closely monitor their productivity over time. More so, the well-known project management tool has a roadmap feature to keep teams and organizations in sync to ensure quick decision-making. And with Jira, you can integrate over 3000 apps.
We could go on and on with the features and benefits Jira offers your web development team when it comes to agile project management. However, let's look at this: If Jira has all these features, which are needed in agile project management, and top agencies and companies like Imaginovation, Fearless, Spotify, Unity, Samsung, Okta, Zendesk, and Walmart are using Jira, why are we talking about Jira alternatives? Why do web development agencies need Jira alternatives?
Why Consider a Jira Alternative? 
The answer is simple. Jira has limitations that are worth considering because they hinder web development agencies from performing to their maximum capacities. Here are a few reasons why you should not use Jira:
Quite expensive, with key limitations in upgrades
Jira is quite expensive compared to some project management tools that can serve teams with the needed features. Moreover, some of the limitations in the free version are still present in the upgraded versions. For example, you will still have your site limit of one (except for the Enterprise plan). So why should you upgrade if your team does not require an enterprise plan?
Complex to onboard and use
Jira's onboarding process is complex compared to other project management tools. Learning how to use the software takes a lot of time and effort. What's more, most users have found it frustrating to use daily.
Customization is difficult
Though Jira lets you customize your interface as you would want it, it's not simple to customize. You have to spend a lot of time customizing your interface because the process is cumbersome. Looking at the several projects your team has to work on, having to spend all the time customizing an interface is a setback and should be dealt with.
Need for different tools to enable collaboration between developers and clients
Jira only allows internal team members to collaborate on projects.  It does not allow clients to make their reviews and give feedback on projects in the same place as the developers, and this makes collaboration a bit slow, as two different applications or software need to be used to achieve maximum results. In agile project management, the process is really iterative and if clients and developers have to be at two different places, this will delay the feedback and review process a bit.
Doesn't allow for multiple task assignees
This has to do with single tasks with multiple assignees. For instance, when multiple collaborators are required to work on a single task, all others only get to comment on the project while the one person assigned works on it. And this is not very effective, because other team members simply become spectators when indeed they should be working.
These five points raised, among others, have proven that Jira has limitations, hence, the need to consider alternatives. 
You might want to jump into recommending Jira for your agency probably because of the popularity it has gained when it comes to agile project management. However, the fact that over 100,000 organizations are using it does not mean it's the best for your agency.
6 Best Jira Alternatives for Web Development Agencies
A little caution before proceeding to the Jira Alternatives for Web Development Agencies
You may want to fall back on spreadsheets to manage tasks for your agency because they are less costly compared to other project management tools. Nonetheless, you have to rethink your decision because spreadsheets have proven to be ineffective for web developers' project management over the years. Your team will spend a lot of time managing tasks manually, which will cost you a lot of time and money.
But there's good news. There are equally good agile web development project management tools that can offer you the features Jira does and even more at a lower cost. Let's take a look at 6 of them.
zipBoard
zipBoard is a visual bug tracking and collaboration tool that simplifies client collaboration by letting clients share feedback using visual annotations while browsing their website and making contextual change requests. zipBoard allows web development teams to manage tasks in a Kanban or spreadsheet view. With its other inbuilt features that allow for complete agile project management, agencies are able to deliver projects faster.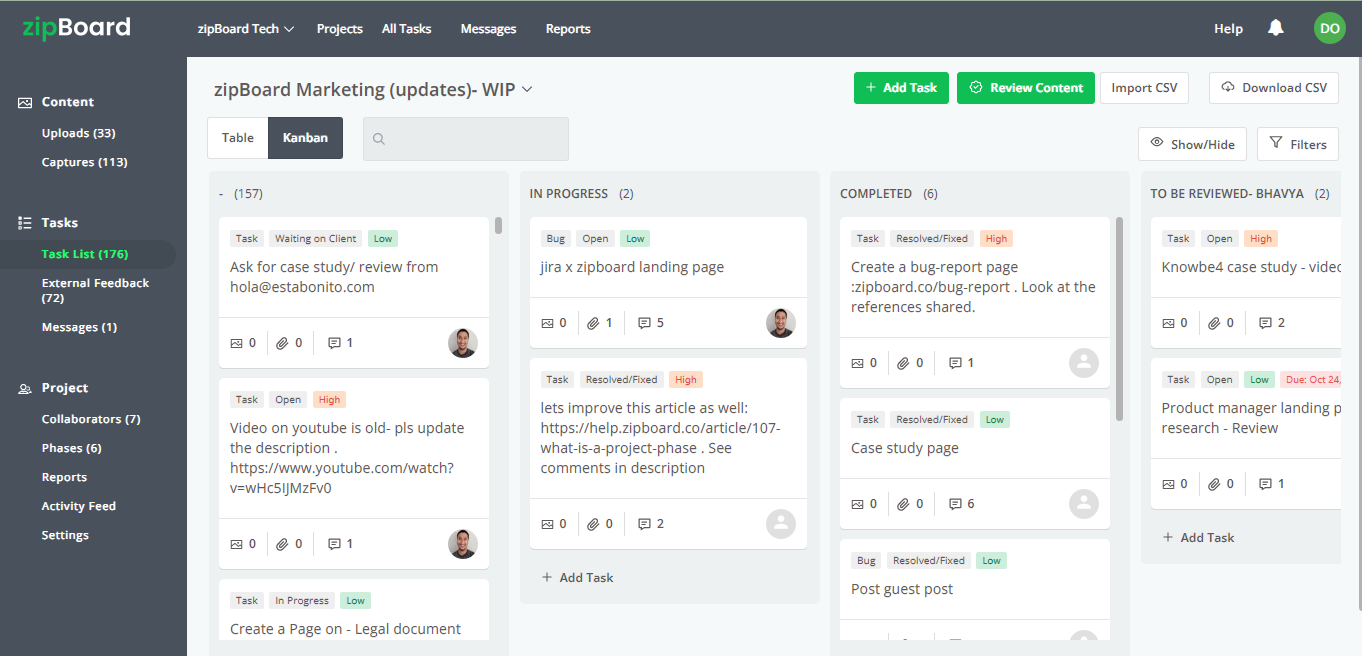 Unlimited projects:

Create unlimited projects

to manage your reviews and tasks, and add all your reviewable content in one project or multiple projects. There is no limit on the number of tasks and conversations that you can have in each project

Organization/ Team setup:

Add managers, organization admin, and clients

to create different roles and access for different stakeholders

Personalized onboarding:

A designated customer success manager to manage and onboard the workflows best suited for your team collaboration

Kanban board:

Add custom columns for task tracking in a 

Kanban board

and make your own workflows

Export directly from your spreadsheet:

Bring your existing tasks list

and import them to a zipBoard project to get a start

Unlimited Collaborators:

You can

invite unlimited collaborators

on all projects to add reviews or assign tasks
Reports:

Get reports

on information about Projects, Files, Tasks, Collaborators, comments, and screens

Add response:

Keep conversations relevant and contextual by replying directly to the task. Add @mentions to point to a specific team member

Phases:

Break your project down into smaller chunks to track iterations and review cycles. Organize tasks, reviews, and feedback into different

phases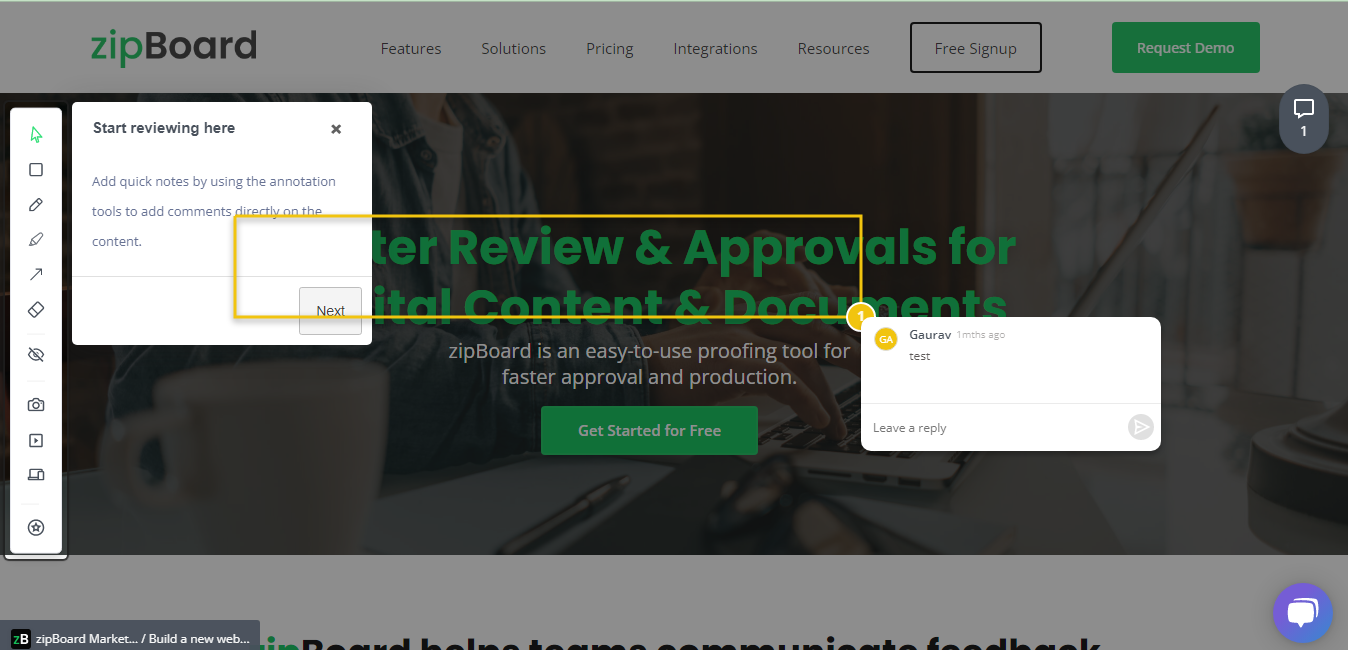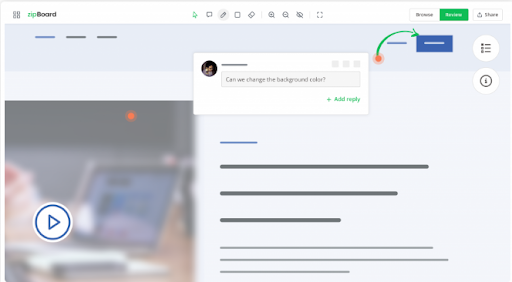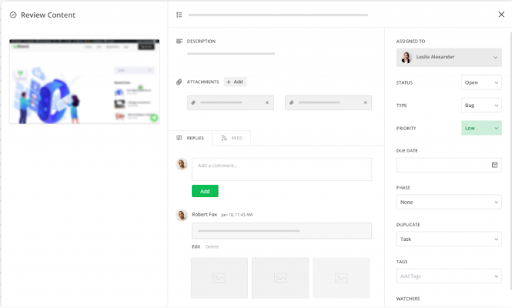 zipBoard Pricing
Free 14-day trial available for all plans
Team:

Ideal for a small team for quick reviews

Agency:

Ideal for agencies with multiple managers to manage projects

Enterprise:

Flexibility of content volume, priority support, and dedicated account manager
Kindly contact the sales team for your tailored pricing plan.
Compared to Jira, zipBoard:
GitLab
GitLab is a project management tool that enables lean and agile project management from basic issue tracking to Scrum and Kanban-style project management. These in turn ensure that web development teams continue to accelerate value delivery on the projects they undertake.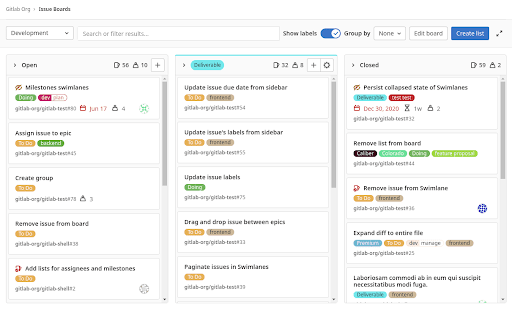 GitLab Key Features
Plan, assign, and track with issues

Organize work with labels, iterations, and milestones

Visualize work with boards

Correlate work with output using merge requests
GitLab Pricing
$0 per user/month; No credit card required
$19 per user/month; Billed annually at $228
 $99 per user/ month; Billed annually at $1188
Compared to Jira, GitLab is,
Trello
Trello is a project management tool owned by Atlassian, just like Jira. The tool makes it easy for your web development team to organize and manage tasks and features for your website projects.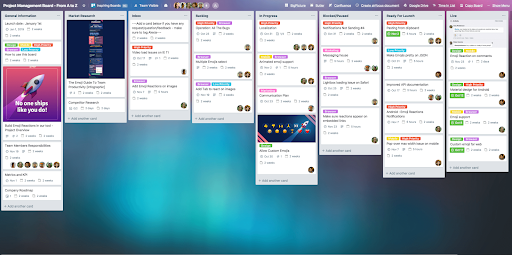 Trello Key Features
Views:

View your team's projects from every angle

Automation:

Automate tasks and workflows with Butler automation

Power-ups:

Power up your teams by linking their favorite tools with Trello plugins

Templates:

Give your team a blueprint for success with easy-to-use templates from industry leaders and the Trello community

Integrations:

Find the apps your team is already using or discover new ways to get work done in Trello
Trello Pricing
 $O per user/ month; No credit card required
$5 per user/month if billed annually; $6 if billed monthly
Premium:

For teams that need to track and visualize multiple projects in several ways, including boards, timelines, calendars, etc.
$10 per user/month if billed annually; $12.50 if billed monthly
$17.50 per user/month – billed annually; $210 annual price per user
Compared to Jira, Trello:
Is easy to configure and use

Is less expensive

Doesn't allow for iteration reviews
ClickUp
ClickUp is a project management tool that allows web development teams to simplify work and get more done. With their built-in features and integration options, you can plan, track and manage any web development project.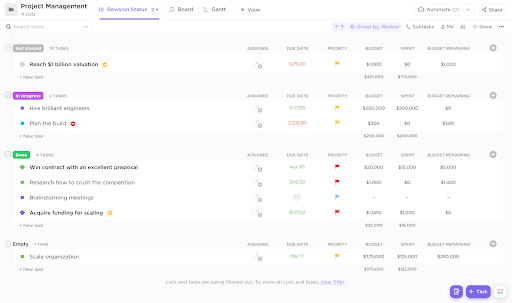 ClickUp Key Features
Space, folder, list:

organize teams and departments into Spaces, group big projects into folders, and breakout tasks into lists for a clear visual hierarchy of all your work

Customizable tasks:

Choose from 35+ ClickApps to customize your task management for any work need. Save time with tasks. No code required

Everything in ClickUp can be easily customized to manage any type of project, no code or add-ons required

Nested subtasks and checklists:

Simplify complex projects by breaking them down into levels of subtasks. Create checklists within tasks to track anything from multi-step workflows to simple to-do lists

Automation:

Automate routine work and processes with 50+ actions, triggers, and conditions. Use pre-built automation recipes or customize them based on your needs

Relationships:

Create the perfect visual database with Relationships. Link tasks, documents, integrations, and more to access everything you need in one place

Integrations:

ClickUp integrates with over 1,000 of your favorite tools. Sync your team calendars, messaging apps, cloud storage, and more to keep all of your tools in one place

Document and share anything with your team:

Collaborate on product ideas, document bugs, or jot down meeting minutes with ClickUp Docs. Edit in real-time with others, add rich editing and keep everyone up-to-date with a visual knowledge base
ClickUp Pricing
Free:

Best for personal use
$0 per member/ month
Unlimited:

Best for small teams
$5 per member/ month if billed yearly; $9 per member/ month if billed monthly
Business:

Best for mid-sized teams
$12 per member/ month if billed yearly; $19 per member/ month if billed monthly
Business Plus:

Best for multiple teams
$19 per member/ month if billed yearly; $29 per member/ month if billed monthly
Compared to Jira, ClickUp:
Is easy to use and has user-friendly features that don't come with hidden costs

Is cost-effective

Allows for both multiple and single assignees for a particular task in a project

Overwhelms users with the several features it comes with
Wrike 
Wrike is an easy-to-use work management software designed with a simple user experience and interface that allows for streamlining the internal project management and collaboration processes between team members. It gives your web development team full visibility and control over your tasks and projects and allows your team to prioritize tasks, share information, and collaborate with ease. What's more, you can integrate Wrike with zipBoard to manage collaboration between internal and external stakeholders.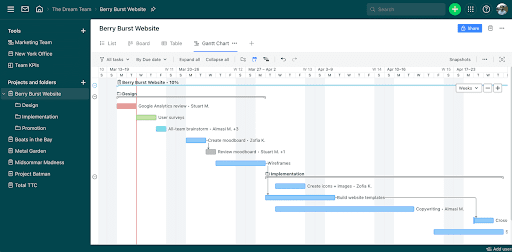 Wrike Key Features
Dashboards:

Visualize tasks, processes, analytics, and more

Automation:

Define and trigger automated workflows to eliminate manual efforts

Proofing:

Streamlined proofing and collaboration in one place

Cross-Tagging:

Unparalleled visibility across multiple work streams

Kanban Boards:

Instantly view project progress and create custom workflows

Project resource planning:

Plan and allocate resources for timely delivery

Gantt Charts:

Interactive project scheduling across teams

Approvals:

Keep approvers in the loop from start to finish

Custom item types:

Tailor work items to fit your specific workplace

Integrations:

Over 400 popular apps plus custom integrations
Wrike Pricing
$0 per user/ month
$9.80 per user/ month
$24.80 per user/ month
Compared to Jira, Wrike:
Is easy to use, hence less time is spent on learning 

Is suitable for both agile and non-agile teams

Lacks filtering options to enable users to decide what information to display on the Dashboard
Backlog
Backlog is one of the four Nulab products. It's a project management tool that lets you organize, discuss, and track work in one place. With Backlog, one platform serves as a space for project & code management, bug tracking, and more.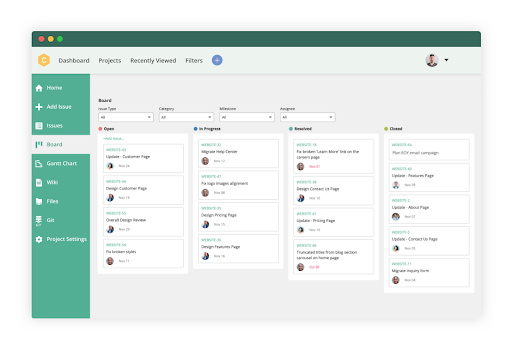 Backlog Key Features
Plan and deliver your best work:

Quickly assess progress and edit plans with a few clicks

Gantt charts:

Quickly visualize and edit the timeline of your entire project

Boards:

Manage tasks through your workflow with Boards

Burndown charts:

See the work left to do and the time left to do it at a glance

Capture every detail:

Easily create and organize customized workflows
Backlog Pricing
$0/ month; $0/ year
$35/ month; $350/ year
$100/ month; $1,000/ year
$175/ month; 1,750/ year
Compared to Jira, Backlog:
Offers built-in tools for issue and code management

Is less expensive considering the free and starter plans

Has unlimited users for standard and premium plans, but Jira has a limit
Time to Get a Jira Alternative!
Though Jira has many features and is common, we can all agree that it is pretty complicated to use, doesn't allow for both client and internal team collaboration in one place, and is very costly compared to some of the 6 Jira alternatives for web development agencies we've tackled in this article. Hence, the need to try other equally good agile project management tools that will suit the needs of your web development team in your agency.
Our recommendation?
Try zipBoard.
Why? zipBoard: